Our commitment to the Planet
Environmental Footprint
To help significantly reduce our ecological footprint, our efforts are focused on the following areas:
Energy conservation and prevention of global warming:
We are focused on reducing emissions in our own operations and have committed to using 100% renewable energy sources across all our sites by 2050. We are continually looking for ways to reduce our customers' CO2 emissions by offering eco-friendly products and solutions through our Sustainability Optimisation Programme. 


Resource conservation and recycling:
To measure and minimise the use of new resources, we apply a 3R approach – Reduce, Re-use and Recycle – to our products. This approach also helps us reduce our water consumption and the amount of waste generated from our business activities. We've set specific goals to reduce our waste, water and product footprint. To find out more about our goals, please read our 2018 Integrated Report or see the Eco Labels section below to find out more about Ricoh's environmental performance.
Circular Economy
Comet Circle 
In 1994, we established the Comet Circle, our own circular economy model. The Comet Circle explains our approach to reusing parts and recycling materials within our organisation and across our wider economic activities, supplier network and product lifecycles. By applying this concept within Ricoh, we:
Reduce our environmental impact at each stage of the product lifecycle, considering all stakeholders involved – our own businesses, suppliers, customers and recycling companies. We then focus on reusing and recycling our products to reduce their environmental impact.
Promote a multi-tiered recycling system to recover used products, reuse and recycle their parts to reduce the need for new materials and minimise waste.
Build strong partnerships to reduce environmentally sensitive substances in the manufacturing process and improve transport efficiency. We also help our recycling partners improve the quality of recycled resources and minimise the energy and costs involved in the process.


Each circle represents partners that support us in realising a sustainable approach. Watch the video below to find out more about how the Comet Circle works.

Products Return and Recycling
We recover our used products and reuse and recycle their parts. Through the Ricoh Resource Smart Return programme, we offer our customers a free-of-charge and easy service to return Ricoh's end of life parts and consumables to our sorting centres in EMEA.
All our sorting centres use our Ricoh Asset Management System which recognises parts and supplies containing reusable components (metals, plastics and cardboard). The components are then re-packed and ready to be re-used.
WEEE Information for Recyclers
In compliance to the WEEE directive requirements, and to provide more detailed information and the answers to questions about dismantling Ricoh products, please visit the WEEE Recycle Information database.
You will need to login or create a new user account to access the WEEE Recycle Information Database
GreenLine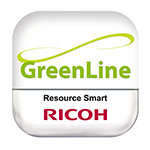 GreenLine is part of our portfolio of certified pre-owned devices that offers our customers affordable and eco-friendly devices that deliver the same services as brand new products.
Pre-owned devices are collected, selected and remanufactured according to a Ricoh unified standard. This prolongs the lifecycle of devices and reduces the total environmental impact of business operations.
Our Products & Solutions
Product Life Cycle Analysis 
Life Cycle Analysis (LCA) data shows that within the lifespan of a Ricoh product, the largest impact – more than 60% - occurs in the In-Use phase with paper accounting for 78%. 
While the In-Use phase is solely managed by our customers, we offer a range of solutions through our Sustainability Optimisation Programme to support our customer to operate with an environmentally responsible approach.
Portfolio of Sustainable Products, Features and Services
Click on the links below to find out more about the wide range of sustainable products, services and product features, we offer our customers.
Sustainable Design
Fostering innovation is key to the growth of our business that's why we launched the "Ricoh Sustainable Products programme" (RSPP). It is an internal assessment programme which helps us improve our products and services based on our own internal criteria for environmental performance, usability and CSR. Thanks to this programme, our latest devices are now designed 37% smaller and 65% lighter than previous models*.
In Japan, the Ricoh Eco Business Development Center is a reuse and recycling centre dedicated to developing eco business technologies, new innovative ideas and test applications in collaboration with our customers. Oil recovery from plastic waste and wood biomass utilisation are amongst the many technological innovations being developed. Click here to find out more.
*Based on full colour Ricoh MP C6004 compared to MP C6001 model
Eco Labels
Our products meet many international and European Eco label requirements for environmental design and efficiency such as:
Blue Angel Mark – Click here to view the list of Ricoh devices that have been awarded the Blue Angel Mark.
Carbon Disclosure Project – We have achieved "A-" for Climate Leadership and "B" for water security. Find out more here.
EPEAT – A large number of our devices have been ranked Gold. Click here to view the full list of Ricoh devices and their ranking.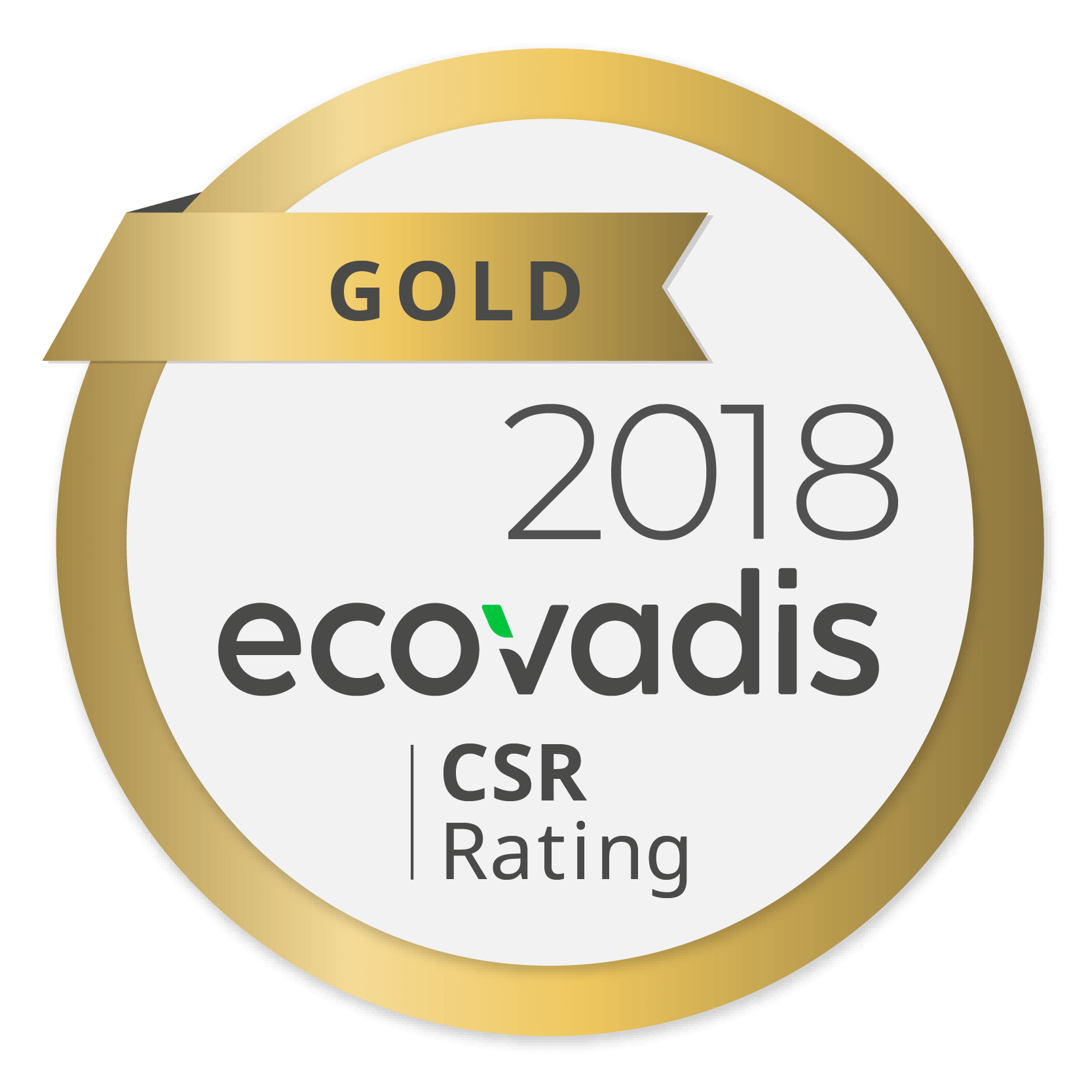 In 2018, Ricoh achieved gold rating from EcoVadis, for the fourth consecutive year. EcoVadis assesses suppliers from 110 countries and across 150 business sectors on corporate policies, initiatives and achievements in the context of the Environment, Labour Practices, Fair Business Practices, and Supply Chain.
Pollution Prevention
Operations

We have four global production hubs in Japan, Asia Pacific, Europe and the Americas. At every hub, sustainable environmental management is promoted within the framework of an international standard ISO 14001. For more information about our certified sites,
please click here
.

We are also tackling pollution by minimising the risks of chemical substances throughout the product lifecycle by 2020. We use a chemical substance control system to monitor data on chemical substances used, discharged, and disposed of at business sites.
The system helps promote the reduced use of chemical substances, collect data and quickly respond to inquiries received from around the world. 
Products
All our products are compliant to local, national and international Health & Safety legislations. We provide Safety Data Sheets and Product Environmental information for all our products. 

To find out more, please click here.
Biodiversity and Environmental CSR
Biodiversity Conservation
We are committed to protecting biodiversity and ecosystems from a variety of threats - the majority of which are caused by humans (including pollution, climate change and over exploitation of resources) by encouraging our employees to actively take part in:
Social Contributions: We contribute to our local communities by fundraising, donating goods and participating in social or environmental activities.
Forest Ecosystem Conservation Project: We have been promoting global forest conservation projects since 1999 in partnership with local NGOs and local communities.
Ricoh Global Eco Action

Each year during the month of June, Ricoh employees around the world demonstrate their commitment to the environment by taking part in local activities to celebrate and support World Environment Day.
Click here
to find out more about our global actions
Focus Areas
Social




Making a positive and long-lasting impact on our people and the communities where we live and work is important to us. Find out how we are taking action.

Environmental




Our commitment to protecting the planet goes beyond reducing our own environmental footprint. We also support our customers to reduce their footprint.

Governance & Policies



We are committed to conducting business with integrity and to the highest ethical standards in compliance with the law and industry regulations.

Environmental, Health & Safety Product Information

Find out more about our products' environmental, health & safety features and the international standards they comply with.