RICOH Spaces
After COVID-19, the average workplace is only utilised to 35-50% of its potential. If you're finding the needs of your business and employees are changing faster than your workplace can keep up with, you're not alone.
Ricoh has created a smart solution, RICOH Spaces, to help your business creating a safe work environment. You can reserve and automatically assign a desk to each employee. It also enables workplaces to be automated and optmised, offering the best possible employee experience while still achieving customer value.
---
What are the key benefits of the RICOH Spaces' solution ?
Automatic & intelligent: can be linked to your existing tools to create a single source of data and automation 
Quick & easy: enables you to effortlessly adapt to the new normal 
Simplify & improve collaboration: adjust ineffective ways of working, improve collaboration & reduce costs.
Discover more downloading the brochure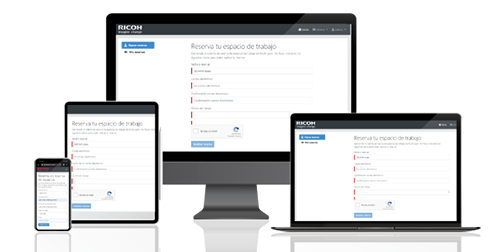 Desk booking

Ricoh Spaces has simple yet powerful desk booking, policies & assignment, providing you with a greater level of control of your workplace with the flexibility to adapt as the needs of your business change.

Meeting Room Management

Effortless booking wherever you are with full web schedule view, interactive floor plan, mobile application and room panel options.

Wayfinding

Bring your workplace to life with interactive digital floor plans enabling highly visual, seamless booking and management of desks, rooms and spaces.

Service requests

Create and manage service requests, decide what information you capture and which options are available when requested.

Return to work

Key features include: enable or disable desks for booking and obtain employee health status and traceability data.

Internet of Things (IoT)

Add the latest IoT sensor technology to your business to gain detailed, real-time data about your spaces.

Digital Signage

Key features include: manage your screen network from anywhere and securely display real-time data dashboards from sources, such as Power BI.

Visitor Management

Make a great first impression, increase security and improve your employees' productivity with Ricoh Spaces Visitor Management.
Workplace Insights

RICOH Spaces Workplace Insights empowers businesses to understand how their workplace is being used and allow them to correct poor behaviours, improve collaboration and even reduce cost.

Mobile App

RICOH Spaces mobile application puts the workplace at your fingertips, empowering employees to book rooms, desks, create service requests and much more whilst on the go.

Room Booking Panels

With a clear view of availability on the RICOH Spaces Room Panels, you can book available rooms quickly and efficiently when you need it most.
---
Get in touch!
Speak to one of our specialists to understand how we can help you to succeed in this changed world. Contact us today.