Awards
We appreciate the awards we've received. They are a firm recognition of our achievements, and spur us on towards even more significant milestones. The list below highlights just some of the awards we have won.
---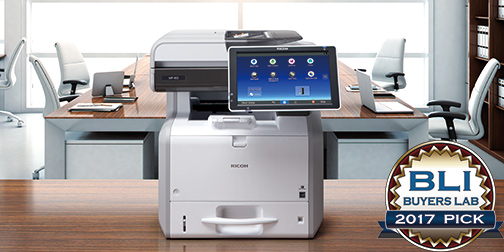 2017 BLI Summer Pick Awards
We're pleased to announce that we have earned five awards for our product lines in the Buyers Laboratory LLC (BLI) 2017 Summer Pick Awards!  These include the awards for Outstanding Multifunction Printer for Mid-Size Workgroups, Outstanding Multifunction Printer for Large Workgroups, Outstanding Departmental Multifunction Printer, Outstanding Departmental Printer and Outstanding 25-ppm Copier Multifunction Printer.
Corporate awards
2021 Broad-Based Bee Verification Certificate
2017 IDC MarketScape names Ricoh a global Leader in print and document security
2017 Ricoh wins two German Design Awards in the category "Entertainment" and "Computer and Communication"
2017 Ricoh wins Good Design Award for its Accessibility App
2017 Ricoh's Managed Print Services named a global leader by Quocirca for sixth consecutive year
2016 IDC MarketScape names Ricoh a leader in worldwide high-speed inkjet press market
2015 Ricoh wins five awards for its product lines in the Buyers Laboratory LLC (BLI) 2015 Summer Pick Awards
2012 Recognised as one of the 2012 Top 100 Global Innovators list by Thomson Reuters, one of the world's leading sources of intelligent information for businesses and professionals
2011 Ricoh named to Ethisphere's 2011 "World's most ethical companies" for third year in a row. The award recognises exceptional ethical leadership actively uphelds within various industries.
Ricoh recognised by oekom research as one of the 'World's Best Office Electronics Companies in Social and Environmental Performance'
One of the 2011 World's Most Ethical Companies by the Ethisphere Institute for the third year running.
2010 Ricoh Europe achieved a 5 star "Recognised for Excellence" award from EFQM. We remain the largest, most complex organisation to have achieved this level of recognition.
Ricoh Germany was awarded the prestigious Ludwig-Erhard-Preis for business excellence. The accomplishment acknowledges the excellent results achieved by doing business the Ricoh way – an approach that combines economic, social and environmental thinking.
2009 Ricoh Europe received the "Ruban d'Honneur" in the 2009 European Business Awards for "Corporate Sustainability", recognising the impact of our activities within the workplace, the market, the environment and the community.
2009 Ricoh UK Products Limited won the British Quality Foundation UK Excellence Award.
2009 Ricoh UK Products Limited won the British Quality Foundation Gold Medal. Awarded annually, it is the highest accolade given by the Board of Directors of the British Quality Foundation to the organisation which has demonstrated outstanding and sustained commitment to excellence.
2005 Ranked No.1 in the Computers, Peripherals and Office Electronics category for corporate social responsibility for 2004/2005 by Oekom Research AG of Germany
2002 Ranked 1st in the world for corporate responsibility rating by Oekom Research AG of Germany
2002 Grand Prize in the 10th Corporate Contribution to the Society Survey held by the Asahi Shimbun Cultural Foundation
1999 Japan Quality Award