CFI opts for high quality inkjet and chooses Ricoh Pro™ VC60000
Enabling transfer from offset to digital for personalised magazine covers, direct mail and more

Ricoh Europe, London, 15 December 2015 – CFI Technologies, part of La Galiote Prenant Group, has become the first operation in France to choose Ricoh's pioneering Ricoh Pro VC60000 continuous feed production inkjet press, and the investment is expected to be the cornerstone of its production future.

The €100 million turnover La Galiote Prenent Group consists of six companies and is a leader in web offset production. It has more than 50 years' experience and the fastest web press in the Paris region at 70,000 rph. The Ricoh Pro VC60000 has been installed at digital division CFI Technologies. This €15 million turnover direct mail specialist has 17 direct mail lines. With its 105 employees, it also offers data management, web-to-print services and book production using a multi-vendor production platform. 

"We wanted a high volume digital solution that would compete with offset printing," explains CFI Technologies Chairman, Jérôme Binet. "We were looking for a digital press that enabled us to increase our digital printing volume by moving offset production to this kind of technology. We evaluated the Ricoh Pro VC60000 by running a number of different print tests. We also reviewed production inkjet presses from a range of other manufacturers during our due diligence process."

A key application for CFI is the production of personalised magazine covers for corporate publications, requiring excellent print quality and the ability to use a wide variety of substrates. Gilles De Rouen, Director of Development, Web and Digital, adds, "What stood out for us with the Ricoh Pro VC60000 when compared to other available production inkjet presses was its print quality in relation to the price per impression. It also gave us the substrate flexibility we needed to be able to produce magazine and book covers as well as a broad array of other applications to increase the level of offset transfer even more. Our new Ricoh Pro VC60000 will be a vital element of our print production portfolio, enabling us to enhance variable data print for direct marketing and direct mail, as well as increase the level of innovation we are able to offer for magazines, newsletters, booklets, flyers and letters, with both great quality and the ability to personalise any of these."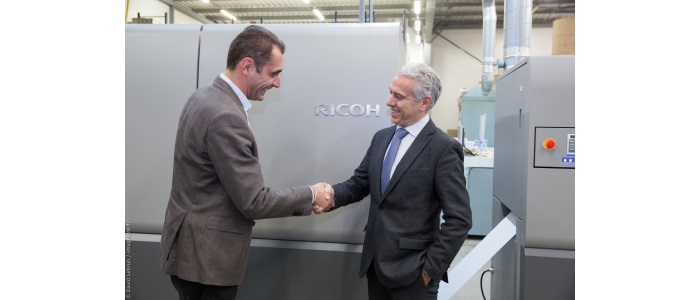 Speaking about the relationship with Ricoh, Mr. Binet comments, "Also important in the decision process was choosing a partner that could not only provide us with a press, but also with strategic advice, innovative ideas and excellent technical support. It has been a real pleasure to discover how efficient and knowledgeable Ricoh's sales, marketing and technical teams are. The partnership is working so well that we consider Ricoh to be much, much more than simply a supplier."

"We are excited to be partnering with this prestigious and innovative company," said Graham Moore, Director, Business Development, Ricoh Europe. "They clearly have their fingers on the pulse of the industry and are very well educated about printing technology as their multi-vendor environment demonstrates. We look forward to continuing to work with them as they transform their business and spur additional business growth through the capabilities that the Pro VC60000 provides."

The versatile full colour Pro VC60000 is powered by the TotalFlow Print Server R600A, Ricoh's own Digital Front End. It was developed to meet the needs of demanding graphic arts environments and applications with a particular eye on print quality, in particular for uses such as magazine and book covers. With Ricoh-developed long-lasting print heads and high viscosity water-based pigment inks, it achieves a physical resolution of up to 1200x1200 dpi with dynamic variable drop size within each pixel to provide significant additional perceived print quality. It can run at nearly 100,000 A4 images per hour and provides support for uncoated, coated offset, digital, treated and recycled papers.