Information Technology
A robust IT infrastructure is essential for supporting a dispersed workforce, accelerating digital transformation and maintaining business continuity.
As organisations adapt to a hybrid working model, it has become mission-critical to secure devices and data within the cloud. IT is increasingly expected to deliver a consistent, quality user experience that increases productivity and continuity of operations. Ricoh offers a range of solutions that allows IT leaders to deploy the right mix of hardware and software to meet their business needs and provide a scalable platform for growth.
Enhance your IT infrastructure
Support a dispersed workforce

Consistent user experience across devices boosts employee collaboration, productivity and satisfaction. Benefit from Ricoh's range of applications and technologies to securely enable hybrid working.

Accelerate your digital transformation

Digital transformation makes operations cost efficient. Choose a digital services partner that enables collaboration and communication, while facilitating cloud-based process automation, archiving and infrastructure.

Gain from a secure and integrated IT infrastructure

Find the balance between on-premise and cloud services by picking the right mix of integrated technologies and services to meet your requirements.
Mid-size organisations: Barriers to Business Growth
Most IT leaders have been implementing digital transformation strategies for several years, until the outbreak of Covid-19 shook their technology infrastructure. This report explores the employee experience working remotely and offers guidance for IT leaders in mid-size businesses on meeting their staff and customer needs in order to navigate the uncertainty that lies ahead.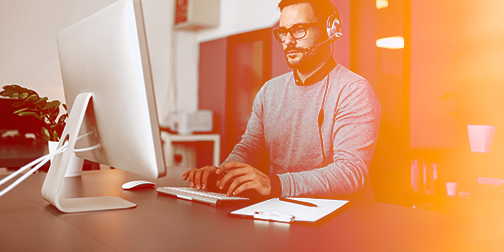 ---
Get in touch
Talk with one of our specialists to find out how we can help transform your IT infrastructure.